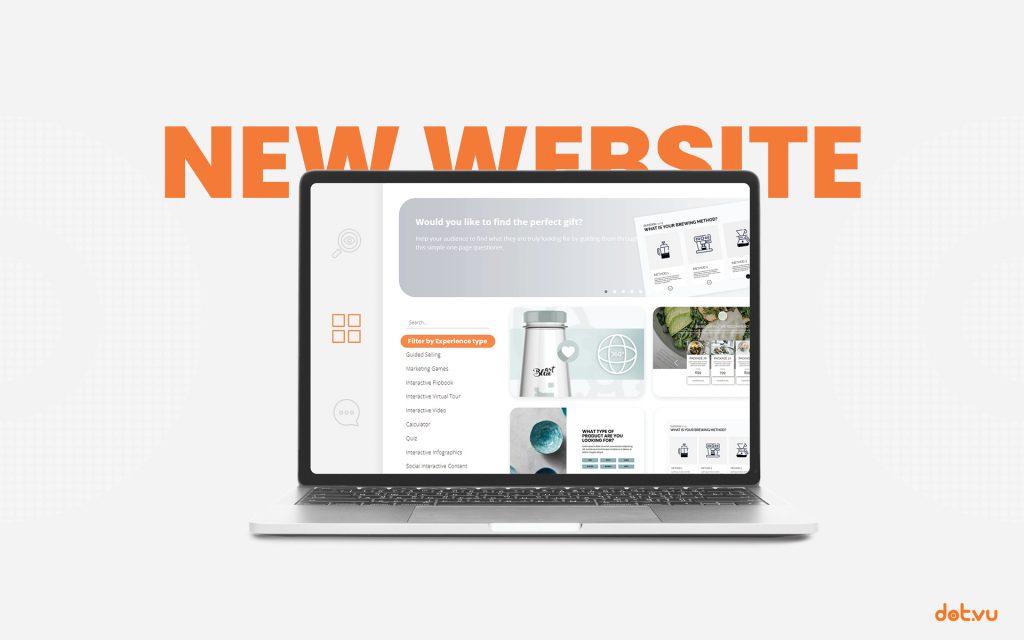 We are very excited to announce the Launch of our Newly Designed Website and Visual Identity
Aarhus, November 3rd, 2021. After four months of hard work and dedication, we are delighted to officially announce the launch of our new website and visual identity. We wanted to make our website faster, easier to navigate, and more user-friendly, as well as our visual identity more minimalistic. Naturally, the whole website was built with our own platform.
As innovation and creativity leader, it is important for us to make information regarding our thought leadership, services, and trends easily accessible for our current and prospective clients. We endeavor to provide our clients with the most accurate, up-to-date, and valuable information.
A Faster and More User-Friendly Website Experience
Through our new website, we aim to share our knowledge and expertise in the field of Interactive Content. Moreover, our vision is to make Interactive Content more accessible without any coding skills or web development required.
In summary, our goal with this new website is to provide our visitors an easier way to learn about the Dot.vu platform including
The Editor,
Our Marketplace,
As well as our Agency Service
In addition, our new website gives better access to
Who we are,
Why our prospective clients should work with us,
How We Work,
Our Platform & Agency Service,
Our People,
Blog,
News,
Help Center,
As well as enhanced Interactive Experiences pages.
Furthermore, on our Dot.vu Blog and the new Dot.vu News page, our current and prospective clients will find useful insights and updates. Therefore, this content will be constantly updated with helpful information, cutting-edge thought leadership, and company announcements. Subscribe to the Monthly Dot.vu Newsletter below.
A Fresh and Minimalistic Visual Identity
In the course of our website optimization, we are also launching a new visual identity today. In particular, our visual identity update contains of two core changes:
1. Poppins is the Primary Typeface of Dot.vu
Poppins is a geometric sans serif font with optical corrections to the stroke joints. Generally, sans serif fonts are connected to modernity, minimalism, and an overall look. Moreover, Poppins as a font creates a certain atmosphere and brand personality, evoking positive emotions and reactions. Just like our colors do.
Due to this general understanding of sans serif fonts, Dot.vu decided to apply Poppins as our primary typeface, representing our ability to adapt to changes in the market demand. Finally, Poppins delivers the Dot.vu message in a strong and easily way to read content, while at the same time maintaining the modern and minimalistic tone of our brand.
2. Our color palette has changed
Since colors play a vital role in the visual & brand identity of Dot.vu. The typical Dot.vu orange has become a recognizable identifier of our brand. In addition, our secondary color palette is less saturated than the main palette. Generally, its purpose is to offer the brand an elegant, professional appearance that we aim to convey with our branding. Moreover, these colors are used to accent and support graphic elements, and our primary color palette.
However, the Dot.vu logo was not affected by the update. The Dot.vu logo is a bold and strategic representation of our brand, our platform, our templates, our high-quality Editor, and the Agency Service offered.

The official logo of Dot.vu
A Team of Ambitious, Creative and Innovative Minds
Moreover, I would also like to thank my amazing Dot.vu team, who donated their energy, creativity, and time to make this site what it is!
For more information, any questions, suggestions, feedback, or comments, please email us at info@dot.vu.
If you would like to experience our platform yourself, please book a meeting with us and discover what Dot.vu can do for you!
Thank You!
Casper Kandelsdorff
CEO & Co-Founder
Dot.vu
+45 31 50 81 08
---