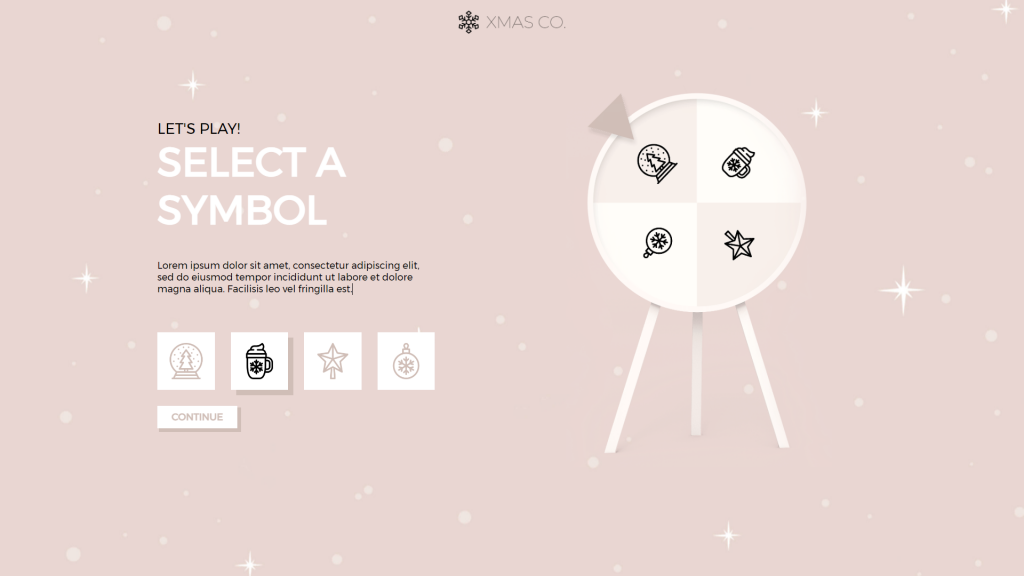 Interact with customers in a unique way with this Christmas Roulette!
This easily customizable template lets you connect with your audience during the holidays. The game allows for one round a day. Therefore, you entice your audience to return to your website repeatedly.
The Christmas Roulette is easy to play. Participants need to pick between four items before spinning the wheel. Then, the wheel will stop on a section corresponding to one of the items. If your visitors are lucky enough, they will win a prize pre-selected by you, such as discounts, free samples, or limited offers. Visitors can only play once a day.
Christmas Roulette is an excellent addition to your Christmas marketing campaign. With this game, you cheer your customers up and increase brand awareness during the holidays. In addition, inserting a short lead form for the winners to claim their rewards will help you generate more leads.
Create an account and customize the template:
Related templates
You might also like Christmas Tapping Game, Xmas Lucky Draw, and Christmas Daily Quiz.
Visit our website or book a meeting today to learn more about how Dot. vu can help you create the best Interactive Experiences.
---