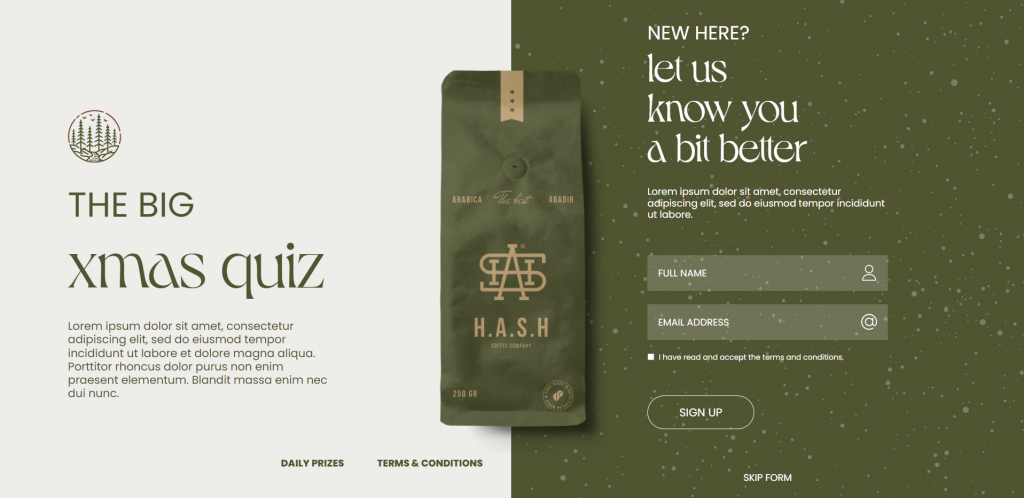 Get your customers in the festive spirit with a Christmas Daily Quiz!
This template is perfect for showing your customers how much you care this holiday season. The quiz allows you to incentivize participation with various exciting daily prizes.
This is how the Christmas Daily Quiz works: you ask your visitors to sign up before the campaign. Once the countdown is over, participants can answer the questions and get a prize if they respond correctly. Furthermore, they can enter a draw for a bigger reward at the end of the campaign. Therefore, you increase website traffic significantly during the winter season as you release daily questions and customers return day after day.
This template is suitable for any company looking to increase brand awareness and create a long-lasting impression. You can always customize the template to fit your objectives and guidelines.
Create an account and customize the template:
Related templates
You might also like Xmas Lucky Draw, Find the Items Game, and Christmas Tapping Game.
Visit our Interactive Content platform website or book a meeting today to learn more about how Dot. vu can help you create the best Interactive Experiences.
---