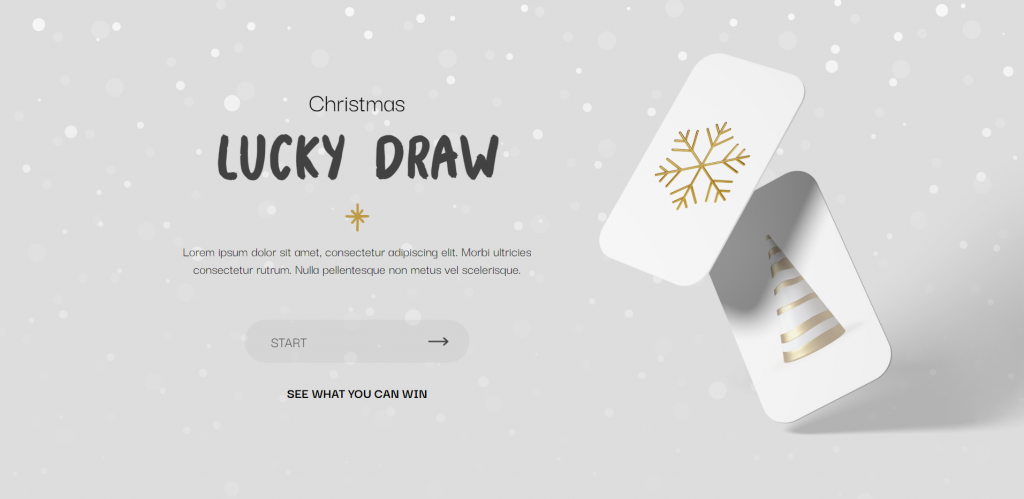 This Xmas Lucky Draw game allows you to show off your Christmas offers with style!
This template is perfect for creating an exciting Christmas Interactive Experience for your visitors. It is an engaging game that will get people to remember your company for a long time. You can customize the template according to your brand guidelines and preselect rewards that will incentivize participation.
The Xmas Lucky Draw game is easy to play. The players need to fill out a short lead form to enter the draw. They will win a prize if they are lucky enough to earn a winning card. Otherwise, they can return the next day and try again. The template has six special cards with messages you can customize on our platform.
As your customers can try their luck every day, you will increase your website traffic. Furthermore, if you give tempting discounts as rewards, you can also boost sales significantly.
Create an account and customize the template:
Related templates
You might also like Advent Calendar with Scratch Cards, Find the Items Game, and Christmas Tapping Game.
Visit our Interactive Content platform website or book a meeting today to learn more about how Dot.vu can help you create the best Interactive Experiences.
---