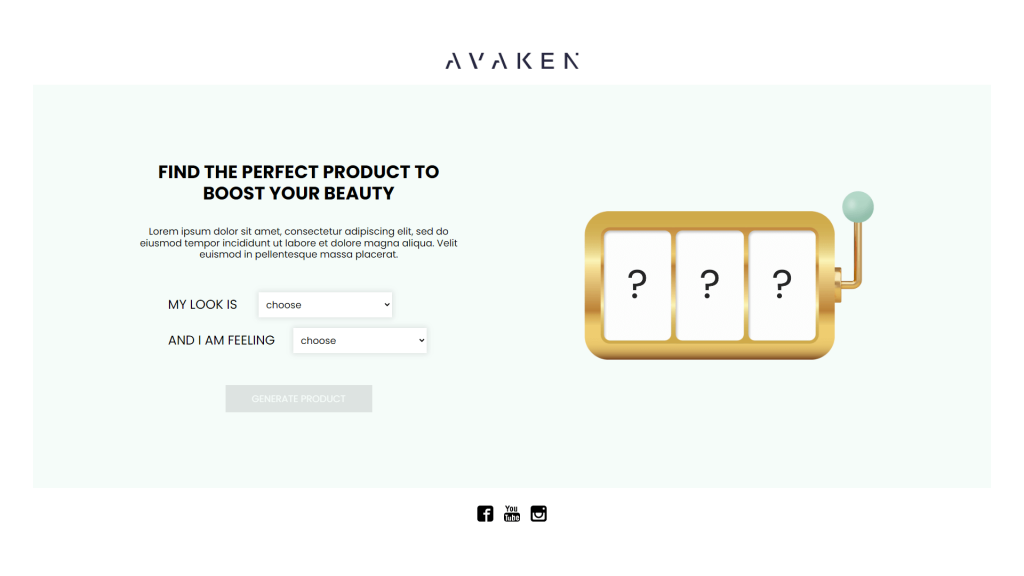 Give your product recommendations a twist with this Beauty Booster!
This template is a Product Recommender with a gamified element: a Slot Machine result display. You can use this Interactive Experience to suggest the right beauty products to your customers. As a result, you will drive sales and increase revenue.
Your visitors need to answer two questions to get their personalized product recommendation. Whether they are looking for a minimal, natural, or extra look, the Beauty Booster will give the best suggestion from your product list. After answering the questions, users click on the "generate product" button, activating the slot machine that will display the recommendation.
You can quickly configure the template in our editor. The Beauty Booster is the perfect addition to your beauty products online shop.
Create an account and customize the template:
Related templates
You might also like Makeup Matcher, Cosmetics Product Finder, and Product Vote.
Visit our website or book a meeting today to learn more about how Dot. vu can help you create the best Interactive Experiences.
---