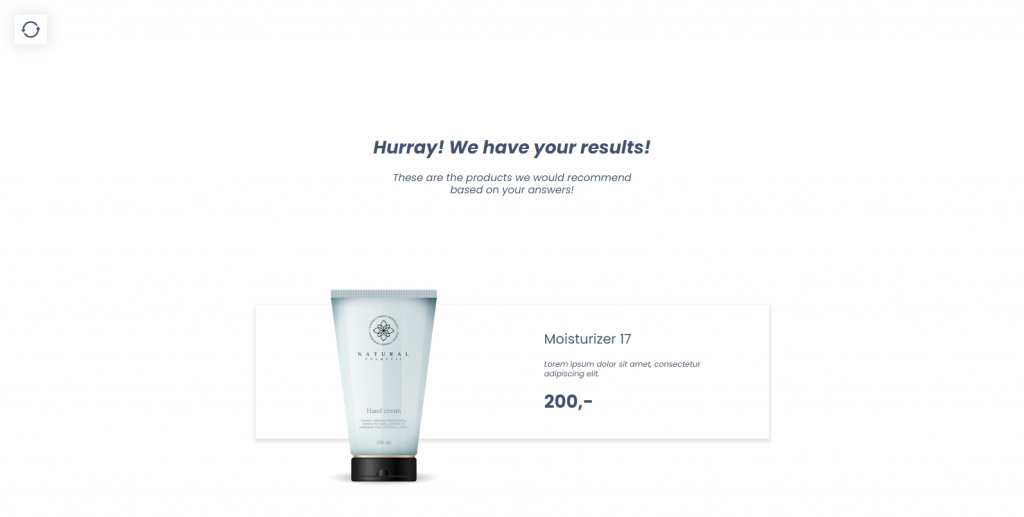 Help customers make confident purchasing decisions with Cosmetics Product Finder!

This template allows eCommerce businesses to provide accurate cosmetic product recommendations based on different skin types and conditions. It includes recommendations about either face or body products, depending on your customers' needs. The advantages of using this template for your organization include promoting products, promoting content assets, boosting sales, and collecting actionable data.

Uncover your visitors' needs step by step. Embedded Cosmetics Product Finder consists of five targeted questions about skin type, skin problems, symptoms, specific conditions, and currently used cosmetics on a daily basis. Moreover, participants will find information buttons that contain an additional explanation of the questions. After answering all five questions, your customers will receive a product recommendation and discount code.
Releasing a discount code on personalized product offerings will increase your revenue . Therefore, this template is perfect for incentivizing sales. Furthermore, you can also use the collected information for retargeting.

This Cosmetics Guided Selling experience is ideal for the B2C, retail, and healthcare industries.

Related templates

You might like these too: Sunglasses Finder, Product Catalog Cosmetics, and Product Vote.
Visit our website or book a meeting today to learn more about how Dot.vu can help you create the best Interactive Content.
---