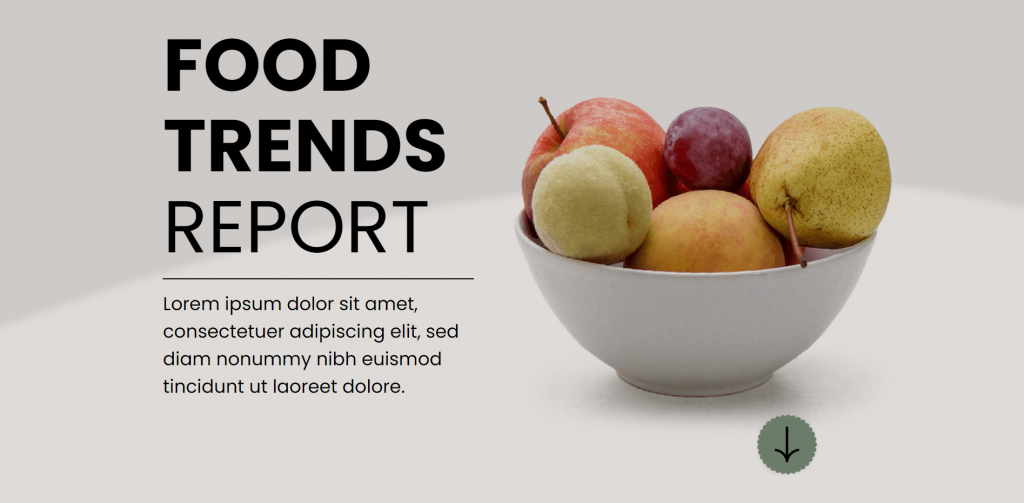 Educate your visitors efficiently with a Trend Report for Foods!
Trend Report for Foods is a perfect template for educating your customers on a specific subject. For example, you can use it to provide an engaging overview of an industry's trends, news, performance, and forecasts. Furthermore, this landing page also allows you to create hype for a new product launch. The main benefit for your business is enhancing customer engagement.
What makes this landing page a memorable experience is the possibility to add interactive features, such as quizzes and hover-animations. Your readers can customize the report by maximizing or hiding different elements. As a result, you turn a boring topic into an engaging presentation.
The landing page consists of an introduction field, space for expert quotes, clickable images to highlight facts, a quiz to test your readers' knowledge, and a downloadable function for the full report.
The benefits of using this template include:
Educating your customers
Enhancing customer engagement
Growing your email list
Promoting your products
Create an account and customize the template:
Related templates
You might also like Internal Educational Flipbook, Candidate Test, and Conference Microsite.
Visit our Interactive Content platform website or book a meeting today to learn more about how Dot.vu can help you create the best Interactive Experiences.
---