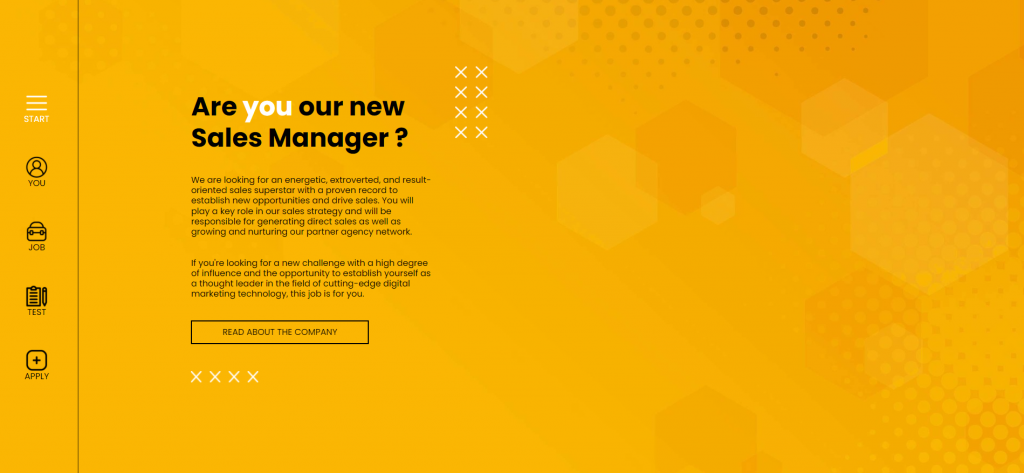 Find and engage the best-fit talent for your company with Candidate Test!

This template is perfect for creating excitement amongst your future applicants. The Candidate Test is an assessment that facilitates the recruitment process. Furthermore, this template sets you apart from other potential employers who use traditional hiring methods.

You can use Candidate Test, for example, to reveal company-relevant information, showcase your values, provide business insights, display job requirements, and describe the role you are hiring for. What makes this experience different is the option to use interactivity. You can add quizzes and videos to engage potential employees to the fullest. This template will help you boost candidate engagement like never before.

Candidate Test will not only activate your candidates but will also improve the processes for HR responsible. Incorporating a quiz will help applicants assess whether they are a good fit. Therefore, you will receive more targeted CVs and cover letters. Moreover, you can collect zero-party data to gain better insights and information about your applicants.

The template is ideal for all industries. The purposes of the template include generating leads, promoting content assets, and giving feedback to candidates.

Related templates

You might like this one too: Career Program Recommender and 3-Category Assessment.

Visit our website or book a meeting today to learn more about how Dot.vu can help you create the best Interactive Content.
---