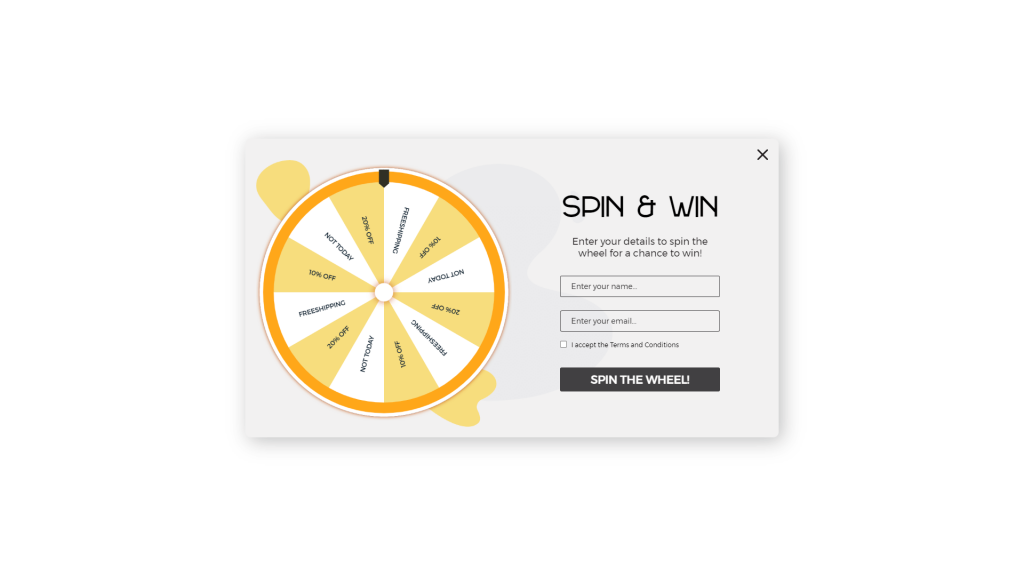 Surprise your eCommerce visitors with a gamified Spin and Win Popup!
This is yet another Interactive Popup in our large variety of templates. The Spin and Win Popup template is perfect for activating your visitors and converting them into confident buyers.
When the Popup appears, it grabs your visitors' attention immediately. It invites them to try their luck to win a 10% discount, 20% discount, or free shipping. The only requirement is that they provide their names and email addresses. As you offer real value, they are more willing to share their personal information. Then comes the fun part – spinning the wheel and waiting to see what prize they get.
The Spin and Win template is perfect for generating email leads and boosting sales.
You can easily customize the messages and design, thus turning this template into your own project. Furthermore, you can change the position, size, and trigger of the Popup. Create a free account and try now:
Related templates
You might also like Black Week Popup and Scratch Card Popup.
Visit our website or book a meeting today to learn more about how Dot. vu can help you create the best Interactive Experiences.
---