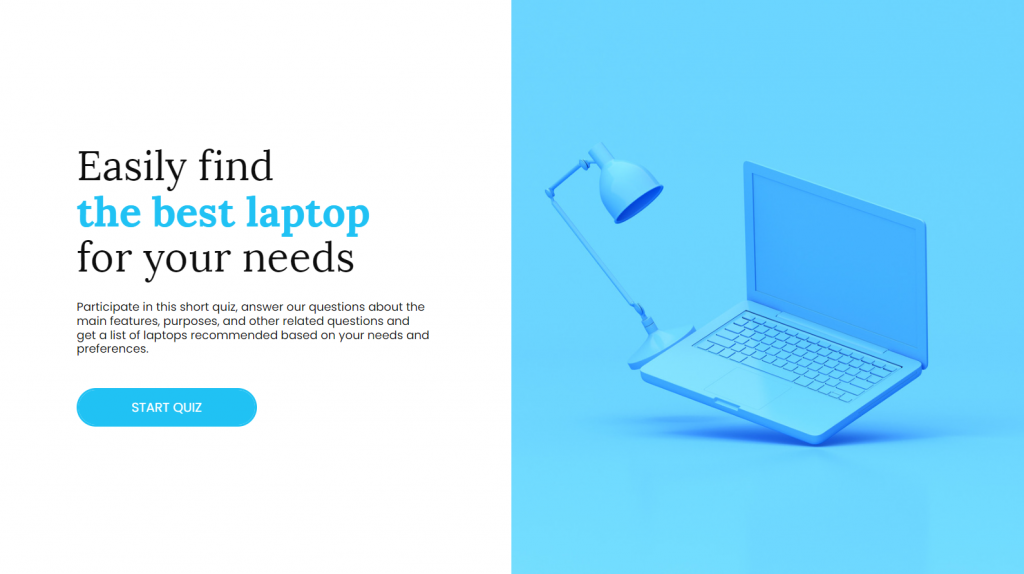 Help your customers find the right laptop with Electronics Product Recommender!

Buying a new laptop can be an infuriating experience. With the large variety of sizes, features, and prices, buyers are forced to conduct extensive research before choosing the right product. You can now facilitate the decision-making process for your audience using our newest template. As a result, you will increase customer satisfaction.

The Electronics Product Recommender consists of five questions about the type, screen size, purpose, features, and budget. Once the visitors answer all questions, they will see a list of recommended laptops matching their requirements. They can also add products directly to their shopping cart. Simple and easy, this template saves your customer's time.

The purposes of using this Guided Selling template include:
Guide and advise;
Generate leads;
Promote products;
Boost sales

This template is particularly suitable for electronics retailers. The fast and accurate product recommendations incentivize sales and improve the customer experience.

Related templates

You might like these too: IT Assessment Test and B2B Product Recommender.

Visit our Interactive Content platform website or book a meeting today to learn more about how Dot.vu can help you create the best Interactive Experiences.
---