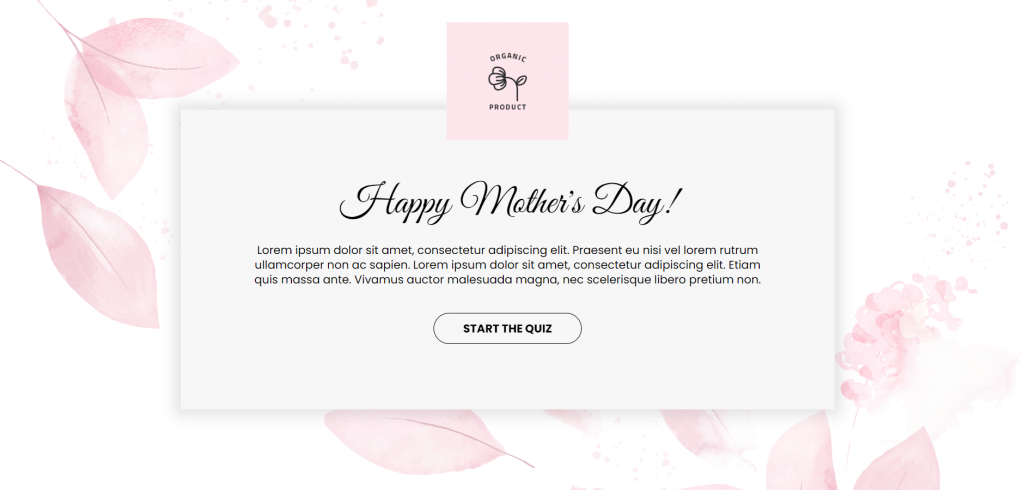 Engage your audience on Mother's Day with Mother's Day Personality Test!

This template will help you engage with your audience and make a difference on Mother's Day. Furthermore, you get the opportunity to promote your products and incentivize sales with discount codes on this special day. Don't miss out on the benefits of this Interactive Experience for your seasonal marketing!

The personality test consists of 7 questions about motherhood. Once the participants have answered all the questions, they will uncover their mom's personality. The conclusions are based on the four main types of moms – "the perfectionist," "complete mother," "the best friend," and "working mom." Let your customers discover their personality type! In addition, the results provide pro tips and advice.

The Mother's Day Personality Test enables you to promote products that match your target audience's personality. By providing accurate product recommendations, you will increase sales. Moreover, you can incentivize a purchase by giving discount codes upon completion. Ask your customers for their names and emails to obtain the code. As a result, you will grow your email list. Last but not least, as visitors are encouraged to share their results on social media, you increase your brand awareness.
This Interactive Experience is ideal for the retail and B2C industries. Entertain your customers, promote products, generate leads, and boost sales with a single template!
Related templates

You might like this one too: Mother's Day Card.

Visit our website or book a meeting today to learn more about how Dot.vu can help you create the best Interactive Content.
---