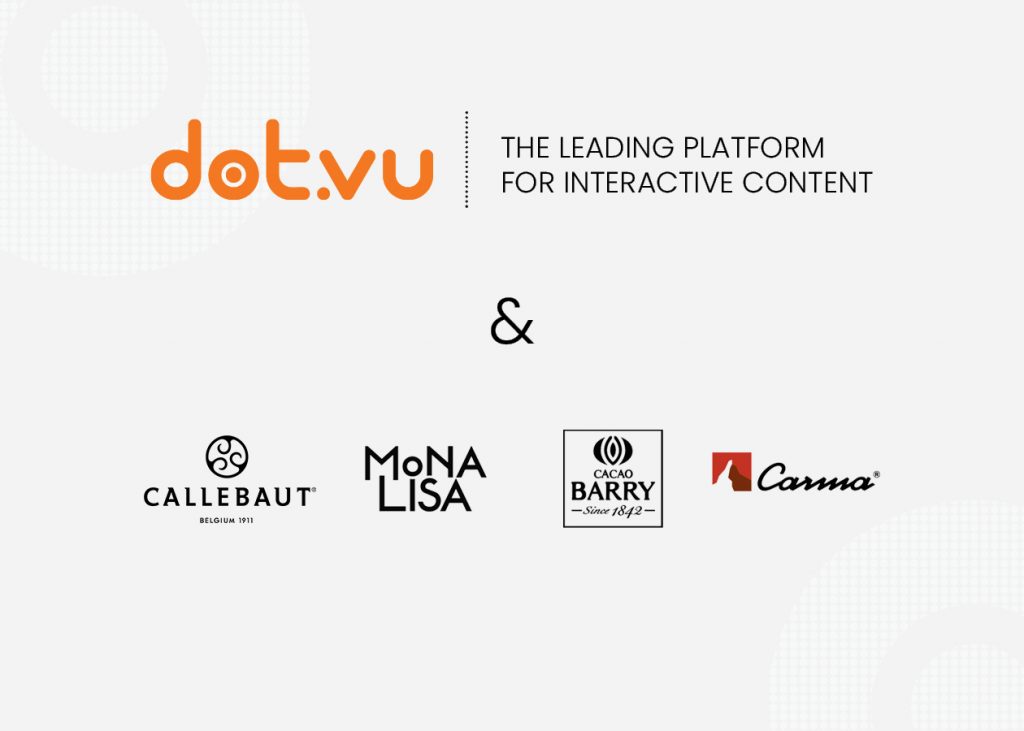 Barry Callebaut, the world's leading manufacturer of high-quality chocolate & cocoa products, signs global contract with Dot.vu to accelerate digital transformation
Aarhus/Denmark, January 5th, 2022 – Dot.vu, the leading Interactive Content platform, has signed a global contract with Barry Callebaut, the world's leading manufacturer of high-quality chocolate and cocoa products.
Barry Callebaut sells high-quality chocolate and cocoa products to more than 137 countries worldwide and is aiming to transform its business to engage with chefs and artisans in new ways. Among other things, this can be done by deploying powerful Interactive Content into their customer journey. Hence, Dot.vu's emphasis on interactivity is at the core of why the global contract was signed, as Barry Callebaut intends to accelerate its digital transformation by focusing on customer experience.
"We are delighted to collaborate with Barry Callebaut and become a part of their digital transformation in all of their markets. Generally, we believe that their innovativeness is what unites Dot.vu with Barry Callebaut, making a perfect match. I look forward to seeing Dot.vu helping them in digitally transform the way they bring value to their customers.", said Casper Kandelsdorff, CEO at Dot.vu.
Utilizing Interactive Experiences has already generated great results over the past six years in mature markets. Barry Callebaut has been using Dot.vu to create Interactive Content to engage, educate and inspire their customers in their different markets, such as the United Kingdom, France, the U.S., Germany, Benelux, and the Nordics.
"Dot.vu has been a great partner and advisor in helping us pilot Interactive Content into our customer journeys. Interactive Content is an excellent way for us to engage with chefs and artisans and has helped us achieve promising results. We are now rolling out to more markets and regions around the globe", Mathieu Brunfaut, Global Digital Transformation Director at Barry Callebaut.
About Dot.vu
Dot.vu is the leading Interactive Content platform that empowers brands to create Interactive Content that engages, entertains, and educates their customers. Our mission and business idea is to shorten the distance between getting an idea and making Interactive Content more accessible without the need to write a single line of code.
The Dot.vu platform gives our clients complete creative freedom in customizing and crafting unique Interactive Content, such as Marketing Games, Product Recommenders, Interactive Flipbooks, Interactive Videos, and many more.
Interactive Content created with Dot.vu helps you collect data for valuable customer insights to generate better customer experiences, which they will actively seek out and engage with. Moreover, it allows you to differentiate your brand from your competitors, generate leads, and boost conversion rates.
Dot.vu is used by some of the world's leading brands, such as Bayer, NBCUniversal, Stryker, and the world's largest health and beauty retailer A.S. Watson Group, each engaging their customers in personalized ways.
Find more information on Dot.vu here.
About Barry Callebaut
Headquartered in Zurich, Switzerland, the Barry Callebaut Group is the world's leading manufacturer of high-quality chocolate and cocoa products, mastering every step in the value chain from the sourcing of raw materials to the production of the finest chocolates, including chocolate fillings, decorations and compounds. The Group runs more than 60 production facilities worldwide and employs a diverse and dedicated global workforce of more than 12,000 people.
The Barry Callebaut Group serves the entire food industry, from industrial food manufacturers to artisanal and professional users of chocolate, such as chocolatiers, pastry chefs, bakers, hotels, restaurants or caterers. The global brands catering to the specific needs of these Gourmet customers are Callebaut® and Cacao Barry®, Carma® and the decorations specialist Mona Lisa®.
Find more information on Barry Callebaut Group here.
Contact
Casper Kandelsdorff, casper@dot.vu, +45 69 13 33 30
---