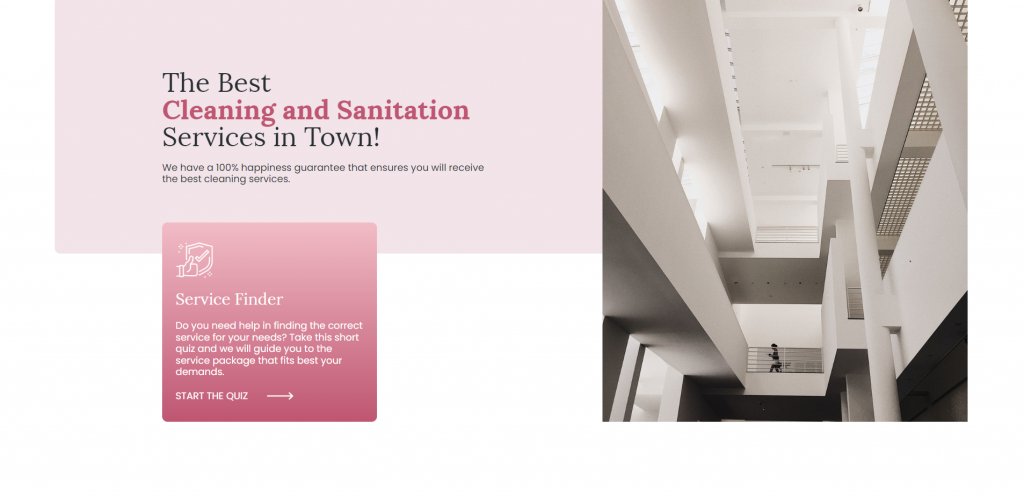 Attract more clients for your cleaning business with this Cleaning Service Finder!
This template is the perfect Guided Selling experience for your cleaning business. You can attract more clients because the tool helps your visitors filter down the cleaning services they need. Furthermore, the quote form next to the results enables you to generate more qualified leads.
The types of commercial cleaning in this template include hotel housekeeping, medical facility cleaning, ventilation cleaning, office cleaning, sports and leisure cleaning, and window cleaning. Moreover, you can easily add or remove any element with our no-code editor.
The Cleaning Service Finder consists of five questions regarding the types of commercial cleaning, the size of the area, preferred services, number of employees, and types of units. After providing the answers, your potential customers can review their results and request a quote. They can also redo the quiz if needed.
The benefits of using this template include:
Attracting new clients
Generating leads
Promoting your services
Improving customer engagement
Create an account and customize the template:
Related templates
You might like these too: Product Finder B2B and B2B Product Recommender.
Visit our Interactive Content platform website or book a meeting today to learn more about how Dot.vu can help you create the best Interactive Experiences.
---