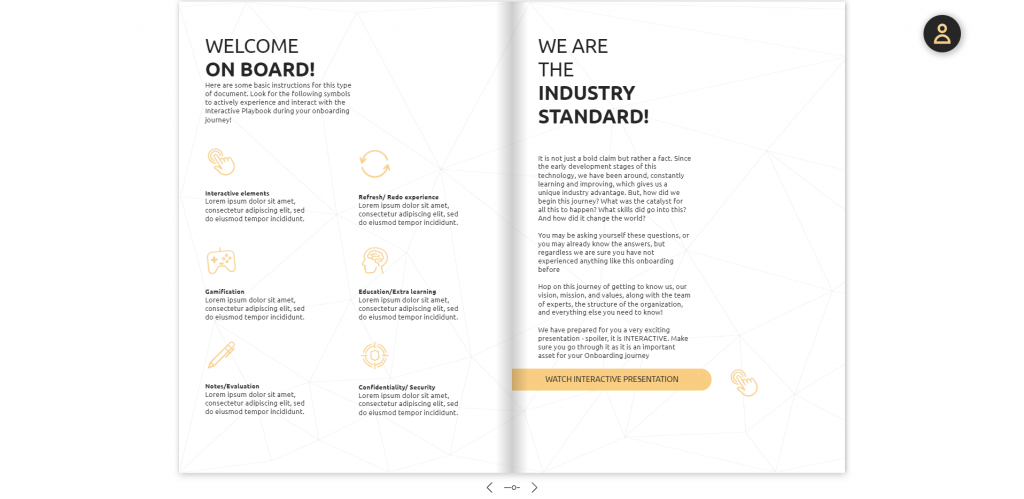 Create a better sales onboarding process with a Sales Training Flipbook!
Forget about traditional salespeople training methods. This template is perfect for onboarding new sales professionals in a brand new way. What makes this training flipbook so special is the possibility to add interactive elements, such as Quizzes, Interactive Videos, and Marketing Games. Furthermore, gathering all your onboarding material into one flipbook saves a lot of time for your company.
With this Sales Training Flipbook, you can turn employee training into a fun activity. Your new sales representatives can now follow a structured yet engaging digitalized process. Instead of throwing them into the pool and expecting them to swim, you communicate your goals and expectation in a clear way. The learning process is easier and smoother thanks to the quizzes and games your new employees should take part in. They can collect badges when they complete a specific task within the experience. l
In addition to all other benefits, this Sales Traning Flipbook has a log-in function that enables you to track your sales representatives' progress.
This template is perfect for companies in any industry that want to increase employee satisfaction and achieve optimal sales results.
Create an account and customize the template:
Related templates
You might also like Internal Educational Flipbook.
Visit our Interactive Content platform website or book a meeting today to learn more about how Dot.vu can help you create the best Interactive Experiences.