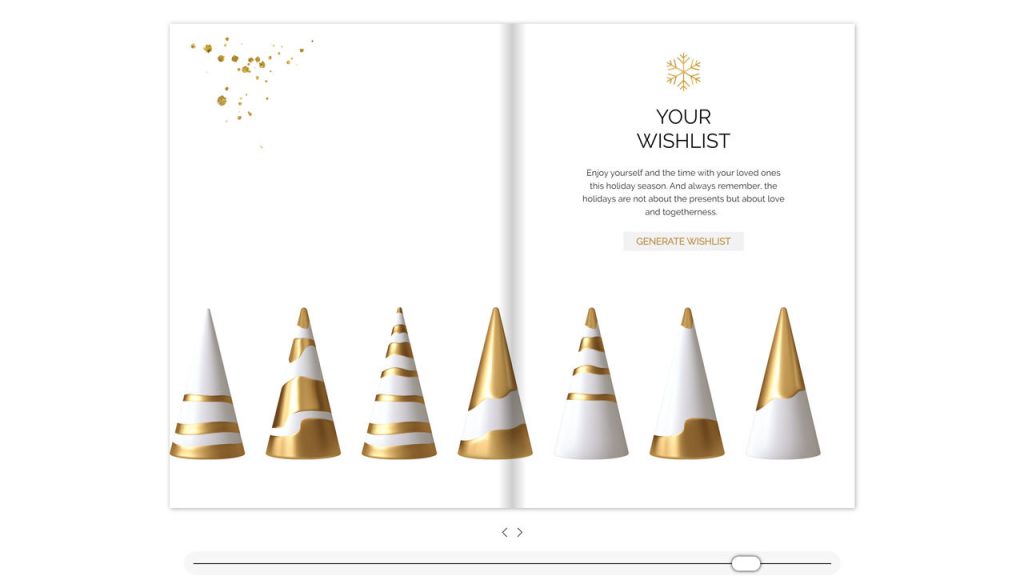 Surprise your customers with a Christmas Wishlist Flipbook this holiday season!
The Christmas Wishlist Flipbook will help your customers create a wishlist from your product portfolio to share with others. Moreover, it will help your customers to find the perfect gifts for their loved ones.
The highlight of the template is the wishlist feature, which allows your customers to add items from your flipbook to their wishlist. When an item is added to the wishlist, a link is generated with an individual URL. In addition, the wishlist can also be edited, i.e., your customers can add more or remove items from their wishlist. If your customers wish to edit their wishlist after sharing it with others, they simply need to click the "COPY CODE."
Additionally, the Christmas Wishlist Flipbook template allows you to address your customers with a personal message for the holidays. Moreover, the template also includes a Gift Finder. The Gift Finder within the Flipbook works as a product recommender to help your customers find the perfect gift for their loved ones.
This template is ideal for generating awareness, increase customer engagement, and boost sales.
To learn more about the Dot.vu Interactive Content Platform or our templates, visit our website or request a demo today.
---